World of Warcraft will be 12 years old this year, and the Running of the Gnomes event has been an annual staple for seven years. This year it's back again, with a run this Saturday, October 15 at 7PM EST. It's basically what it sounds like: thousands of pink-haired Gnomes will make a race through Azeroth towards Booty Bay. Last year, 2,450 people participated.
It's all to benefit breast cancer research, with proceeds going to the Cleveland Clinic. The clinic is working on the Tuohy vaccine, which could end breast cancer for good. Last year they had a goal of $1,500 and smashed past it to raise $4,000. This year they're aiming for $2,500. The event raises money via donation, and you can help! Either donate what you can or donate based on the number of Gnomes that show up — head to their donation page to chip in, with all cash going directly to the Cleveland Clinic.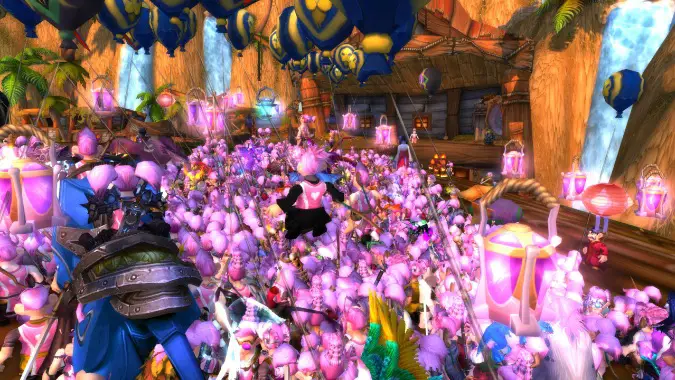 Whether you're in a position to donate or not, it's a fun event and anyone can show up — even characters with a trial account. Just roll a pink-haired Gnome on Scarlet Crusade (US). And if you already have a Gnome on Scarlet Crusade, that's great too.
It starts at7PM EST, but you'll want to hop online at least a half-hour early for a guild invite and join the /gnomerun channel to keep up with the festivities. While players will be on-hand to give out guild tabards and/or pink shirts, they'll be available on a first come, first served basis. If you can grab your own (or mail an account-bound guild tabard to yourself), do it so you can be color coordinated.
You're asked to avoid offensive names and keep your pets put away, as they can cause lag (though with sharding this may be less of a problem this year).
And, last but not least, have fun racers!
This article was originally published at the "Article" source noted above and distributed by The Tutu Project for informational purposes only.
Our team is comprised of Bob and Linda Carey, our advisors and volunteers. Without them, changing lives one smile at a time would never be possible!